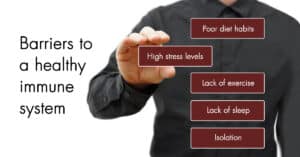 6 Ways to Prevent the Flu this Holiday Season
It's the most wonderful time of the year. Fresh snow falls look beautiful(well not in South Texas)….but there is the holiday buzz around you everywhere. But with all of the joy comes the not so joyous – FLU.
It makes its rounds taking as many of us as it can into its grasp. Are you at risk?
Who is at risk of catching the Flu:
In short, anyone can catch the flu; the difference is that for some people they are more at risk for serious complications related to the flu. This includes anyone over the age of 65 and infants/small children. You are also at a higher risk if you are pregnant or suffer from any health issues that might compromise your immune system.
As with anything though, there are things that you can do to try and protect yourself and your family.
Here are 6 ways to try and prevent the flu:
Hygiene:

This one probably seems obvious – but wash your hands very frequently! I know, if you have small children then this is easier said than done. But we can still try and teach them to wash as much as possible. It is also a good practice to regularly sanitize high traffic areas around your home such as door knobs, light switches, TV remotes etc. 

Rest:

Even though we are all extremely busy, make sure you are getting enough sleep! When we sleep our body takes that time to heal. If we deprive ourselves of that during the cold and flu season we might be setting ourselves up for disaster!

Maintain a Healthy Diet:

You are what you eat is a phrase that we have all heard at one time or another. Guess what? It is true! Make sure that you are eating a very healthy diet with foods such as leafy greens, healthy fats, lean proteins and complex carbohydrates. Try to avoid things with ingredients that you can't pronounce and white sugar. If you need to use sweeteners, use something natural like stevia.
There are also some foods in particular that are known for the immune boosting properties. Garlic is good for this for example, and so is ginger.
Take your Vitamins!

Now is the time to boost your

vitamin D

, and

vitamin C

intake. If you aren't taking a

probiotic

, you should start now.  All of these things can help prevent the flu, of course nothing is 100% but this can give you a fighting chance!

Keep Hydrated:

One of the things people find the hardest to do is to remember to drink enough water. The rule of thumb is that if you feel thirsty you are already dehydrated. What you should aim for is at least 8 glasses of water per day – even more if you can. This is so beneficial to every aspect of your well-being. It helps your immune system, skin, nails, hair, muscles.. the list goes on! If you are someone who just doesn't like water; try adding in some lemon. Not only is it delicious but it has immune boosting properties also.

Lifestyle Habits:

Exercising is number one. Get in as much physical activity as you can all year long. If you are someone who exercises outside and the weather out there becomes too treacherous, find something you and the family enjoy to do inside together!
Also, try different methods for stress relief. When we are feeling stressed out our body feels it too. This is not just a psychological issue. Take bubble baths, take up meditation, reading, craft projects; pick whichever activity relaxes you.
What if you catch the flu anyway? 
Despite your best efforts the flu might still infiltrate your home – especially if the kids are in school! There are things though, that you can do in hopes of at least making the flu as painless as possible! Also, keep in mind, prescriptions do not help the flu as it is a viral infection – here are some natural things that you can do to help yourself feel a little bit better.
Stay Hydrated:
You likely will not be overly hungry during this time so sticking to soups and/or bone broth is great. Drink plenty of water or even sports drinks to help with your electrolytes.
Herbal teas are also really good for helping you to feel better.
REST!
This is one of the most important things to do –  get plenty of rest. As tempting as it is to still do your holiday shopping it might be best to send a family member or friend off to the shops for you with a list. Try not to infect everyone around you. Goal 7 to 8 hours nightly of quality sleep. 
Going to work, on the other hand, is a bit of a tricky subject – if you are able to stay home; you should. The last thing you and your co-workers want is for the flu to sweep through the whole office!
Congestion:
Use a Netti Pot; this can really help with congestion! They can be really messy and sometimes uncomfortable to use but they really help to clear out your sinus' and relieve sinus pain and pressure. The air in our homes this time of year is also very dry so making sure that you have a humidifier going is helpful – especially at night.
Other Remedies:
If you have a sore throat eating raw honey will help to coat it and can help to stop coughs. Making tea sweetened with honey and lemon is great for a sore throat too because not only does it coat your throat but you can take advantage of the other health benefits it offers. Just try not to go overboard with the honey – it does contain a lot of sugar. Studies have also found that Elderberry syrups and extracts have been known to help with the duration of the flu if taken at the first sight of symptoms.
Taking Zinc orally can help with the duration of the flu too, but you need to take it within 24 hours of the onset of symptoms!
Sanitize everything!
Once the symptoms ease up and you are feeling more like yourself, it is generally a good practice to sanitize everything that you can to avoid passing the germs back through the house. Make sure you change your bed sheets and your toothbrush!
When to seek professional help:
If you still do not feel any relief and you suspect that something else might be going on make sure to see your healthcare provider! Secondary infections such as pneumonia can be even worse and more dangerous than the flu itself.  And let's not forget the role COVID -19 is playing this season!
 When all is said and done, the flu is sometimes inevitable. All we can do is our best to avoid it; but if it comes knocking at your door anyways, now you have some tools to make it as painless as possible so that you and your family can enjoy this winter and holiday season!
Resources:
https://theherbalacademy.com/staying-healthy-this-cold-and-flu-season/
https://www.downtoearth.org/health/diseases-conditions/eight-ways-to-stay-strong-and-healthy-flu-season
https://heartmdinstitute.com/health-and-wellness/10-natural-ways-stay-healthy-flu-season/
http://nccih.nih.gov
When you sign up for our newsletter, you are guaranteed to never miss out on what's new at Central Drug again! We will keep you updated on exciting discounts, new products, exclusive events and fresh blog posts.